Description
Take Your Selfies To The Next Level – The First Complete Selfie Kit Is Here To Stay!
Do you enjoy taking photos of yourself or capturing the most beautiful moments of yourself, family or friends?
Isn't it annoying though, to wait for some passer-by to take a picture?
Don't Worry. With This Smart Selfie Kit You Can Take Loads Of Perfect Photos On The Spot!
With this 3-piece set you have unlimited possibilities on taking pictures.
The Mini Tripod provided allows you to mount any of your cameras to it in seconds. Perfect even for action cameras like GoPro!
And what if you prefer using your Smarthphone?
No problem at all. Thanks to the Phone Holder that is included in this set, you can super easily mount your phone to the tripod too!
The holder has adjustable size 2.2 – 3.2″ (56 – 80mm) and it is wide enough to securely attach to it any phone.
The last part of the set will definitely be your favorite one. This smart Remote Shutter allows you to capture pictures without touching the screen at all.
With this wireless remote control you can take loads of full-body, or group pictures effortlessly!
Ergonomic Design To Keep It Always With You!
The size of the tripod is just 18×80 mm while the remote control is just 5cm and they weight almost nothing!
Keep it in your bag and be always prepared to take the most stunning photos or videos, without the slightest shake!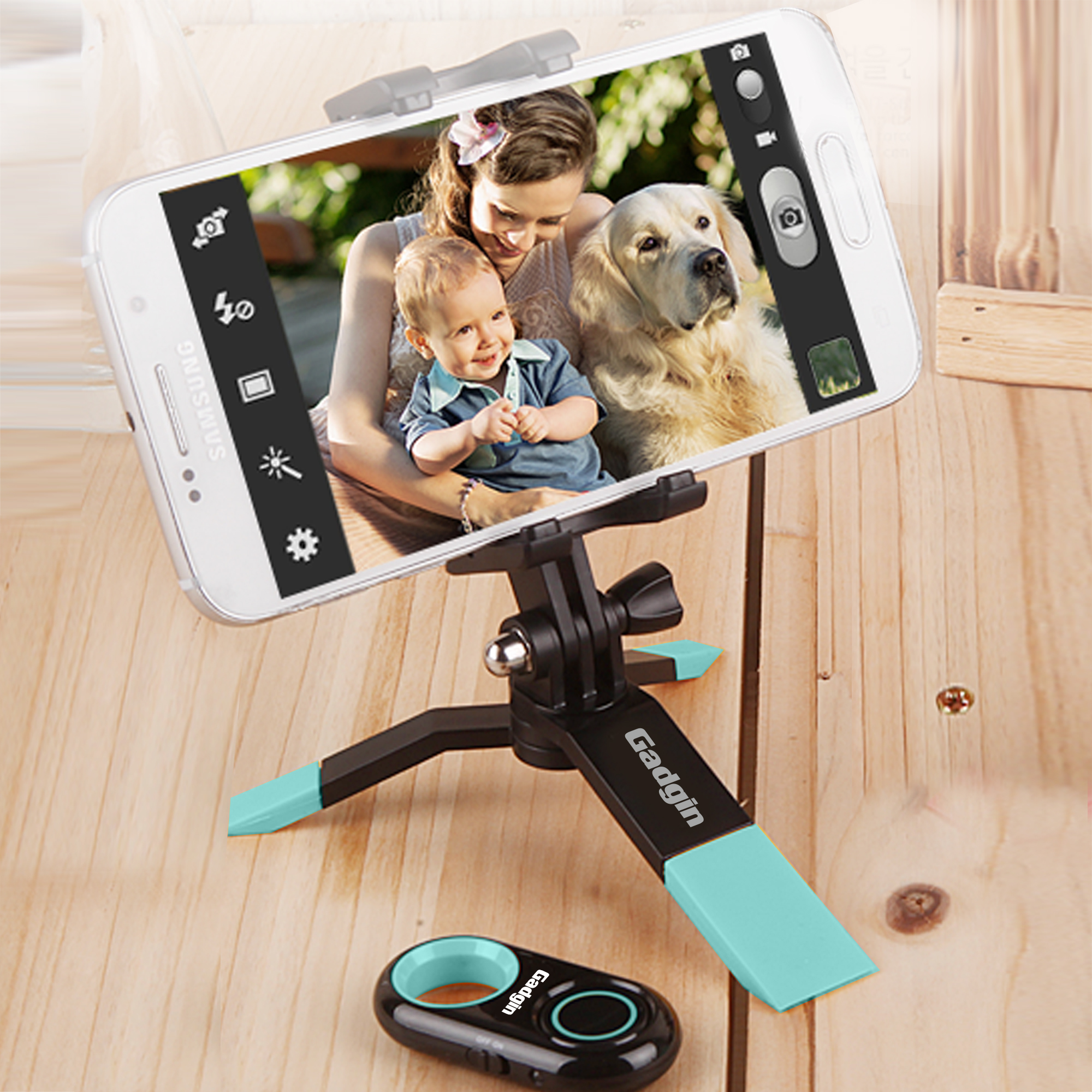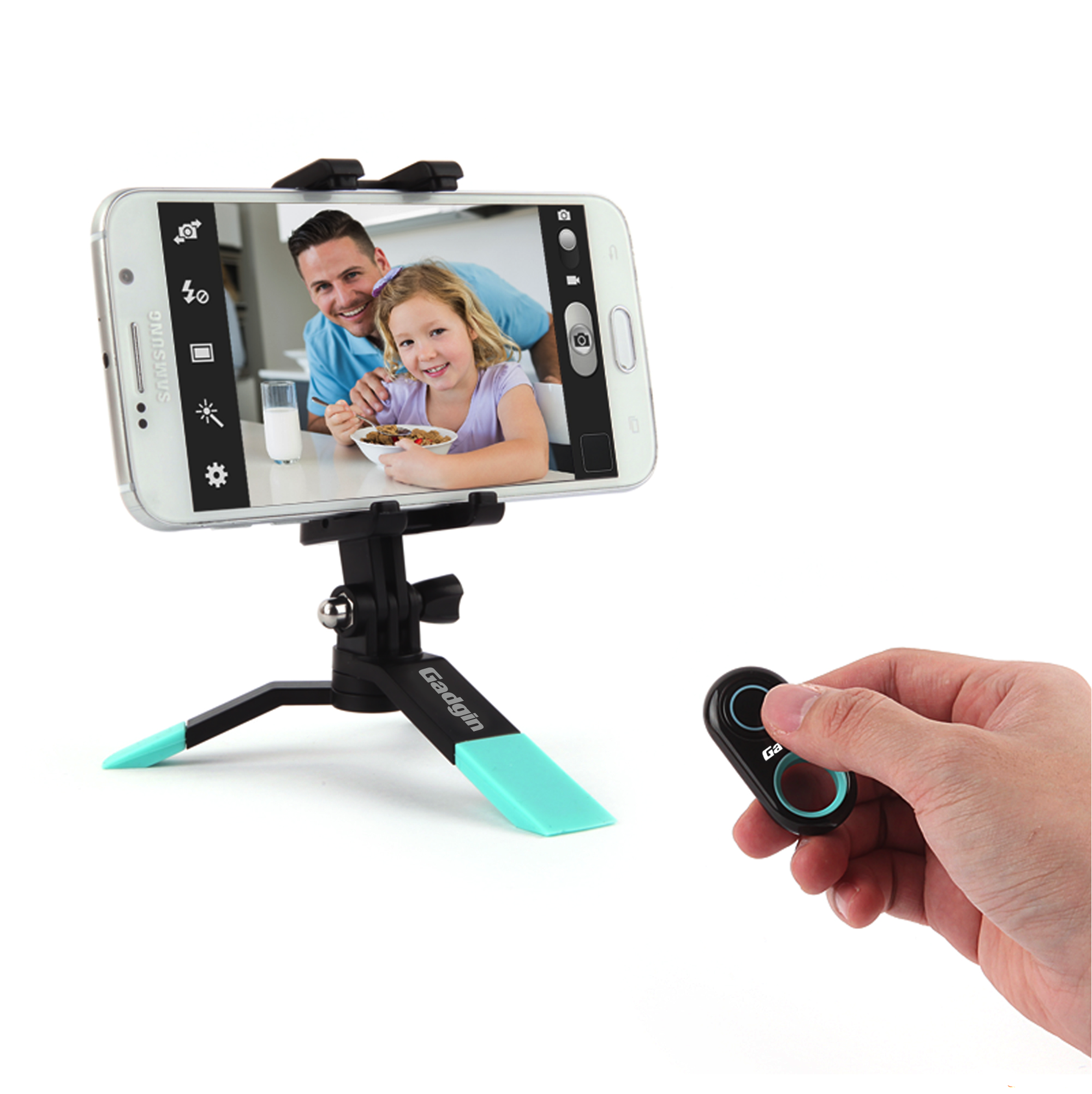 ✔ ULTIMATE PHOTO EXPERIENCE: Do you prefer your camera over your phone? No problem! You can use this small tripod to mount your cameras and TAKE THE BEST PHOTOS YOU EVER HAD effortlessly. You like your phone more? You can super easily use your smartphone and enjoy taking the most beautiful pictures of you and your family! PERFECT PHOTOS & VIDEOS: With Gadgin you eliminate even the slightest shake that could ruin your entire photo or video – clear shots is better than capturing blurred ones!

✔ SMART REMOTE SHUTTER: The future of convenience in capturing photos and videos is here! With this ingenious remote control you can capture the best pictures even from a distance. No need to stay that close to the camera anymore. Take your favorite pose, or a cute group photo just by pushing a button. Still struggling to reach the screen of your phone to take a decent selfie? No, right?

✔ UNIVERSAL COMPATIBILITY: The tripod works great with any kind of smartphone or camera, even the Action cameras like GoPro. The handy phone holder has adjustable size, from 2.2 – 2.15″ (56 – 80mm) to securely hold any smartphone. And as for the remote shutter? With easy as a breeze connection, it works perfectly with any iOS (6.0 or later) or Android (4.2.2 OS or later) system and you can use it with your phone, tablet or even iPad!

✔ PORTABLE DESIGN – UNPARALLELED CONVENIENCE: With this amazing selfie kit you can take the best photos on the spot. No need to risk giving your phone to a stranger to take a picture of you, no need to compromise with shaken, unsatisfying photos. Thanks to the ergonomic design of this set you can definitely keep it always at your arm's reach and capture all the unique moments of your life with ease and comfort.

★ GET IT WITH CONFIDENCE: Gadgin in an expert brand when it comes to smart gadgets. Covered by a 1 YEAR "NO-HASSLE" REPLACEMENT POLICY ($29.95 Value – INCLUDED FREE!). What are you waiting for? Try it out today and the first snap will reward your choice!
Product name: portable selfie kit (Blue)
UPC: 712395999943
ASIN: B01ETDXABY